"Four score and seven years ago our fathers brought forth on this continent, a new nation, conceived in Liberty, and dedicated to the proposition that all men are created equal.
 Now we are engaged in a great civil war, testing whether that nation, or any nation so conceived and so dedicated, can long endure. We are met on a great battle-field of that war. We have come to dedicate a portion of that field, as a final resting place for those who here gave their lives that that nation might live. It is altogether fitting and proper that we should do this.
 But, in a larger sense, we can not dedicate — we can not consecrate — we can not hallow — this ground. The brave men, living and dead, who struggled here, have consecrated it, far above our poor power to add or detract. The world will little note, nor long remember what we say here, but it can never forget what they did here. It is for us the living, rather, to be dedicated here to the unfinished work which they who fought here have thus far so nobly advanced. It is rather for us to be here dedicated to the great task remaining before us — that from these honored dead we take increased devotion to that cause for which they gave the last full measure of devotion — that we here highly resolve that these dead shall not have died in vain — that this nation, under God, shall have a new birth of freedom — and that government of the people, by the people, for the people, shall not perish from the earth." — Abraham Lincoln, November 19, 1863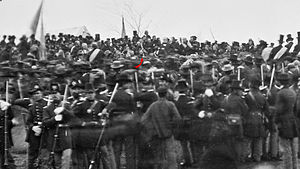 Crowd of citizens, soldiers and others with Lincoln (red arrow) at Gettysburg.
When was the last time you read the Gettysburg Address? It might not immediately come to mind as a fitting remembrance on Memorial Day. The Civil War and the terrible brokenness behind it don't constitute one of America's greatest chapters. Perhaps far better (or at least less painful – safer!) to contemplate World Wars I and II.
But read Lincoln's words. Reflect a bit. Who has better articulated what we honor this weekend? Don't these words challenge America today – in 2016 – just as they did in 1863? Don't we hope that those men and women who over history died for freedom and democracy – for life, liberty, and the pursuit of happiness – shall not have died in vain? Don't we fervently pray for a new birth of freedom – not just in America, but worldwide?
Which of course brings to mind environmental intelligence and the commercialization of data.
Really, Bill?
Really. Let's start with environmental intelligence.
We call life, liberty, and the pursuit of happiness inalienable rights. But to guarantee life when the planet we live on does its business through extreme events – devastating cycles of flood and drought; breathtaking hurricanes and tornadoes; the upheaval of earthquakes, tsunamis, and volcanic eruptions – seems a promise we can't keep. Perhaps the only right we might guarantee is a right-to-a-warning, and even that can be problematic. In the same way, as men and women pursue happiness and economic well-being that is directly and indirectly weather- and climate sensitive, the forecasts and predictions supporting agriculture or transportation or energy or water-management sectors don't guarantee success. Fact is, when Jefferson and his contemporaries penned these famous words, no one had any idea that useful forecasts would even be a possibility. No one fought or died in the Revolutionary War, or the War of 1812, or the Great World Wars thinking it was for the right to a better weather forecast.
But times change. And in the way that events and history work, our awareness of the ways weather-, water- and climate forecasts contribute to public safety and overall economic well-being has grown as those forecasts and services have advanced and matured. In our efforts to squeeze the last bit of profit out of the economy and minimize the margin needed to ensure public safety, we've pushed our dependence on such forecasts to the max. Along the way, we've come to see accurate forecasts, especially life-saving and property-saving warnings, as a guaranteed "right" and complain when this right is abrogated.
Until "recently" (before World War II, say), we also saw such forecasts as a "public good:"
A public good is a product that one individual can consume without reducing its availability to another individual and from which no one is excluded. Economists refer to public goods as "non-rivalrous" and "non-excludable".
However, as the value of accurate weather-, water-, and climate forecasts has grown and become more obvious, governments, private enterprise, and individuals have grown more willing to pay a bit extra to gain strategic or economic or personal advantage. And a private sector has emerged in response to that demand – providing services far more tailored to individual customer needs than might be required of or appropriate for public weather services, providing the means through which such services could be made rivalrous and excludable, and creating profit opportunity in the process. All this seems fair enough. Why should the taxpayer subsidize special weather support to a particular airline or trucking company, or to agribusiness, or to a private electrical utility?
But at the same time, our society has grown far more interconnected and interdependent – a far cry from the relative independence of even Lincoln's day. So the benefits provided by the private forecasts and services aren't limited to the companies who pay for them. They're passed on to customers and the public through better, lower-cost products or, should those companies chose to retain the benefits as profits, then they show up in improved health of financial markets and the overall wealth of the nation. In this world, just as there is "no black or white but only shades of gray," there are no truly private or public goods but only so-called mixed goods, which have varying degrees of the properties of each.
Enter the term "environmental intelligence." Current leadership at the National Oceanic and Atmospheric Administration has made many substantive contributions to national well-being. But taking its place alongside these is their introduction and sustained use of the frame "environmental intelligence" to frame their work and its relation to the national interest. The simple use of this phrase propels the hearers into an instant appreciation of the stakes and how they've exploded in value from the bygone day that the weather forecast was limited to decisions about whether to carry an umbrella. It's been a good thing for all of us.
Which brings us to commercialization of data.
(Every aspect of what follows is a gross oversimplification; the intent is to redress this in future posts.) Think of this for now as a proposed transition from an age-old process to a new way of doing business. Back in the day, federal agencies bought Earth-observing hardware (satellites, radars, ground systems, computers, etc.) from private-sector vendors and then owned the data, which were in turn made freely available to everyone, since the taxpayer had paid for them. Some companies have been suggesting (and some for a long time) that the government (and taxpayers) could save, and foster innovation, by instead allowing companies to assume the risk of owning and operating the hardware, and instead buying the data streams. This is what governments do routinely for example, when purchasing electrical power or communications. Recently the calls for such new approaches have grown with the explosion of IT, use of the internet, and the emergence of big data and data analytics.
But there's often fine print. Some want the data streams provided to the federal government to be available only for government use, and not for use by the private-sector, or by other countries, in contradiction to long-standing agreements; the private-sector data providers would like to be able to charge for that additional access to the data.
This discussion is not unique to environmental intelligence. It also underlies current debate on universal healthcare and public education, to name just two examples. The value of all three sectors has grown immeasurably since the country's founding. And in part because of that increased effectiveness and in part because of other social change, the country has seen an erosion of the historic idea that these three sectors represent public goods, and ought to be somewhat equally available to everyone. Instead we seem to be coming to favor making only minimal services freely available and charging extra for all the rest. Thus in the span of a few generations we have seen the rise of private healthcare over and above what the standard insurance will buy. We've seen seriously-ill patients, at the point in life when they're most vulnerable, being asked to raise funds for the hospitals treating them over and above the nominal fee for their care. Families used to work with their school boards to improve public education for all – their neighbors as well as themselves. Now, if they can, they simply pick up stakes and move to pricier neighborhoods located in better school districts, or pay to send their children to private schools. The social fabric – the idea that we're all in it together – is fraying at the ages, and manifesting itself in the stridency of today's political process.
There are no simple answers. There is no black and white. These and other issues are woven and tangled all together in ways that defy simple prescriptions. The result is universal frustration. Those who want change chafe at what seems to be simple resistance to any ideas, especially "outside" ideas, in favor of the status quo. Those charged with responsibility see a need to "look before you leap," to understand the emergent and unintended consequences of policy changes before embracing them. As we move forward, we need much more national conversation. This blog will try to contribute to that in a small way in the days and months ahead.
Some points to ponder over coffee or barbecue on Memorial Day. What did our ancestors fight and die for? What does it mean for us today to be "here dedicated to the great task remaining before us — that from these honored dead we take increased devotion to that cause for which they gave the last full measure of devotion — that we here highly resolve that these dead shall not have died in vain — that this nation, under God, shall have a new birth of freedom — and that government of the people, by the people, for the people, shall not perish from the earth?"
Enjoy the weekend!