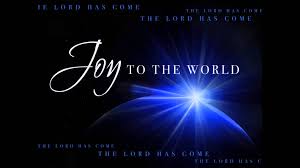 And there were shepherds living out in the fields nearby, keeping watch over their flocks at night. An angel of the Lord appeared to them, and the glory of the Lord shone around them, and they were terrified. But the angel said to them, "Do not be afraid. I bring you good news that will cause great joy for all the people. Today in the town of David a Savior has been born to you; he is the Messiah, the Lord. This will be a sign to you: You will find a baby wrapped in cloths and lying in a manger."– Luke 2:8-12 (NIV)
Rejoice in the Lord always. I will say it again: Rejoice! Let your gentleness be evident to all. The Lord is near. Do not be anxious about anything, but in every situation, by prayer and petition, with thanksgiving, present your requests to God. And the peace of God, which transcends all understanding, will guard your hearts and your minds in Christ Jesus. – Philippians 4:4-7 (NIV)
Joy? On the surface, joy seems out of place in today's dark mood. The world has seen its share of tragedy and suffering in 2016. To open up the Washington Post (just the example of my local paper; you can surely say the same whatever your news source) each morning is an act of courage. The headlines bring news of death and destruction from every continent. Religions, races and ethnicities clash in-country as well as across national boundaries. Reading – the virtual experience of these realities – is itself numbing. But mere words fail to capture the real pain and despair that make up the experience of these troubles firsthand.
As a result, most of us, if we can, when we hear the words of the Christmas carol, "Joy to the world, the Lord is come," we rush to shop, to decorate, to exchange gifts and spend time with loved ones. But, to our frustration, we learn those forms of joy has their limits. Even families can struggle to get along. Dysfunction and brokenness can lead to misunderstanding and flare up into anger.
Pope Francis has captured this in his message for the season. Excerpts from a Reuters summary: Pope Francis said on Saturday that Christmas had been "taken hostage" by dazzling materialism that puts God in the shadows and blinds many to the needs of the hungry, the migrants and the war weary…
Francis, leading the world's 1.2 billion Roman Catholics into Christmas for the fourth time since his election in 2013, said in his Christmas Eve homily that a world often obsessed with gifts, feasting and self-centeredness needed more humility.
"If we want to celebrate Christmas authentically, we need to contemplate this sign: the fragile simplicity of a small newborn, the meekness of where he lies, the tender affection of the swaddling clothes. God is there," the Pope said at St. Peter's Basilica…
…Pope Francis said the many in the wealthy world had to be reminded that the message of Christmas was humility, simplicity and mystery.
 "Jesus was born rejected by some and regarded by many others with indifference," he said.
 "Today also the same indifference can exist, when Christmas becomes a feast where the protagonists are ourselves, rather than Jesus; when the lights of commerce cast the light of God into the shadows; when we are concerned for gifts, but cold toward those who are marginalized."
 He then added in unscripted remarks: "This worldliness has taken Christmas hostage. It needs to be freed."
How can this season be freed? Maybe more urgently, how can we be freed?
Pope Francis has answers. But we don't have to go that far afield. Here in the United States, for example, any of the 600,000 or so clergy who live within a few miles of you and me, and the millions in the communities they serve and lead, would happily share: it's in fact what made that event 2000 years ago singular. Throughout all of prior history, we (more properly, our ancestors) had seen God as powerful, and remote, and disappointed in us – occasionally, maybe even often – angry. We thought to be around Him or call attention to ourselves was place ourselves in mortal danger. But through the circumstances of that first Christmas, God and the angels announced something far different: that He understood our form and our frailties[1]. That He held, and still holds, only love for us, not anger and judgment. That this was not a matter of our goodness, or our obedience or effort – but purely a matter of His grace. That He henceforth would always be present, and near, and accessible, in this different way.
(Of course, being human, we haven't been content to go about our lives and let joy find us when and where it will. Instead, we've wearied ourselves to the point of exhaustion by hunting for joy, looking and up and down for it, hoping to come upon it through effort. C.S. Lewis captures the futility of such search well in his partly-autobiographical book, Surprised by Joy – worth a read.)
Immanuel – God with us.
God – the Maker of heaven and earth, nothing less.
With – not against, but with. Not far, but near. Not incomprehensible, but in a form we can understand.
Us – you and me.
Joy to the world![2]
________________
[1] The best analogy might be this: Ants have a better chance of holding a meaningful discussion about human beings and our nature than we have of holding such a discussion about the nature of God. That is, unless He were to give us helpful hints, much as we help our children to learn – an avatar, a crib sheet, a brain implant. (Come to think of it, that's what He did.) The coming of Christ is as if one of us assumed the form and nature of an ant to better explain things to them. (By the way, it might not be surprising if those ants turned on and killed that outreaching human-as-ant – but that's a different part of the story.)
[2] Of course, you and I need to hear the music, even though Christmas has come and gone. Here's Pentatonix.