Living on the Real World: How Thinking and Acting Like Meteorologists Will Help Save the Planet is available for sale here at the AMS Annual Meeting.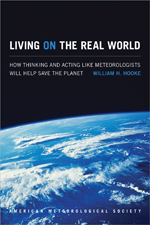 This morning, I'll be joining Lourdes Avila, author of Taken by Storm, 1938: A Social and Meteorological History of the Great New England Hurricane, and Louis Uccellini, author of Northeast Snowstorms, at a book signing.  You'll find us at the AMS Resource Desk, located between the posters and exhibits areas, from 9:45-11:00.
Join us! We'd love to see you there.