"Think forward." – masthead on the LeMoyne College Website
Living on the real world – reality – is personal.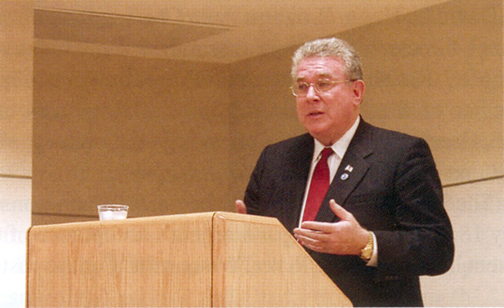 James R. Mahoney – Le Moyne and MIT-educated meteorologist, Harvard academician, private-sector entrepreneur, government leader, family man, larger-than-life human being – passed away last week at the age of 77.
It's standard on such occasions and essential in Jim's case to mourn the loss, to recognize that the world is diminished by his passing. In one sense, that's evident enough. However, the opposite is equally true. The world he leaves behind is the better for him – and in fact, continuing to improve every day. His impact on his family and colleagues and on the geosciences community is only beginning to be felt. The positive ripple effect will not just endure but grow for years to come as that host of people he inspired and whose lives he changed pay it forward in their turn.
Meteorologists, better than most, understand this. Thanks to Ed Lorenz, a professor at MIT when Jim was there, we know what a single butterfly can do. And if by mindlessly flapping its wings, a butterfly can create a hurricane a world away three weeks later, and influence the course of weather forever, how much more can a man or woman, acting intentionally over a lifetime, change the history of the world?
In part, that's why the work and lives of meteorologists – and, for that matter, the lives and work of all seven billion of us – is sacred. As you and I go through the ordinary circumstances of each day, whether mountaintop experience or mind-stupefying slog, we are indelibly and profoundly altering the future.
(No pressure!)
Jim's career and contributions were extensive and must be seen in their entirety to be appreciated. (The Boston Globe obituary reprinted here at the end of the post provides a quick overview.) At the same time he made those contributions at a richly personal level, one at a time, day by day, and year by year. You probably have your own favorite story from the larger Mahoney narrative. But here and in the next post(s?) is mine: Jim's tenure as the director of the National Acid Precipitation Assessment Program, or NAPAP, from roughly 1987-1991.
A little bit of background before we dive in: As the Boston Globe piece reminds us, after getting a meteorology Ph.D. from MIT, Jim was on the faculty at Harvard's school of public health for seven years. About 1968, he co-founded Environmental Research and Technology, Inc., which grew into one of the first large companies devoted to environmental services and engineering, as it capitalized on the new need for corporations to file environmental impact statements. After selling ERT in 1983, Jim went to work for Bechtel. 1987 found Jim and Bechtel playing a major role in the Three-Mile Island cleanup, which was still ongoing after the 1979 nuclear accident. Reactor radiation levels were so high that the robotics of the era, though primitive by today's standards, had to be harnessed to the task. To operate the robotics, the Bechtel crews were dependent on the views provided by cameras. However, in the heat generated by the radioactivity, the coolant water remaining in the chamber had turned the reactor core into a huge Petri dish. Algae and mold were growing profusely on all surfaces, including the camera optics. Jim and his team were engaged in a crash course in image enhancement science and technology in their efforts to keep the billion-dollar cleanup moving.
As it happens, in that same year, problems with the National Acid Precipitation Program (NAPAP) reached the breaking point. We'll pick up the story here in the next post.
A final footnote, demonstrating the influence of a single human being. As the bio below shows, Jim received his undergraduate degree of LeMoyne College, a small Jesuit school only founded in 1946. A Penn State meteorology professor by the name of Charles Hosler, now in his 90's, came to campus and gave a talk at the time Jim was a student in physics. Hosler made such an impression on Mahoney, and vice versa, that it wasn't long before Jim was going to school in meteorology – and at MIT. During his tenure at Penn State, Professor Hosler also inspired hundreds of other students, including a young man by the name of Joel Myers, who founded AccuWeather, and another young man by the name of Richard Hallgren, who went on to become a director of the National Weather Service and subsequently executive director of the AMS.
Well, back to work, everyone. Who will you influence today? And how will you and they change the world as a result? Think forward!
_____________________
From the Boston Globe:
Mahoney, Dr. James Richard Whose distinguished career as an academic, a scientist, a business executive, and the director of key U.S. Government environmental programs spanned five decades, died peacefully on September 23, 2015 at his home in Eagle, ID. Jim was also a devoted husband, father of eight and grandfather to twelve. Before retiring to Idaho in 2006, Jim was based in Washington, DC and served as Assistant Secretary of the Department of Commerce and Deputy Administrator of the National Oceanic and Atmospheric Administration. During his tenure at NOAA, Jim also served as the Director of the U.S. Climate Change Science Program, and was responsible for overseeing the Federal Government's numerous research studies and developing policy directives on climate change. Jim was born on September 19, 1938 in Syracuse, NY, and attended Christian Brothers Academy followed by Le Moyne College, where he earned a Bachelor's degree Magna Cum Laude in Physics. He then proceeded to MIT, earning a Doctorate in Meteorology and Geophysical Fluid Dynamics. In 1966, Jim moved across town to Harvard, as a well respected Associate Professor of Applied Meteorology in the School of Public Health for the next seven years. In 1968 Jim co-founded Environmental Research and Technology, Inc., one of the earliest environmental engineering and services companies, serving as Senior Vice President until the sale of ERT in 1983. His excellence in environmental management issues continued on the West Coast, where Jim became Director of Bechtel's global environmental industries business group, based in San Francisco. In 1988, Jim accepted an important role in the Executive Office of the President under the Ronald Reagan and George H. W. Bush administrations, merging his scientific and leadership talents as Director of the National Acid Precipitation Assessment Program. Upon completion of that government assignment, Jim returned to the private sector as Senior Vice President of International Technology Corporation in Los Angeles until his assignment at NOAA. He is survived by Taya, his wife of 25 years, their daughters Courtney and Caitlin of Eagle, ID. He is also survived by his former wife, Margaret (Eells) Everbeck and their six children: Deborah Briggs and her husband Geoff Briggs of Randolph, MA; James Mahoney and his wife Jane Chung of Columbia, MD; Robert Mahoney and his wife Marcia Mahoney of Byfield, MA; Peter Mahoney and his wife Joanne Mead of Newton, MA; David Mahoney and his wife Elizabeth Mahoney of Roslindale, MA; and Paul Mahoney and his wife Mary Tamer of West Roxbury, MA. Jim is also survived by 12 grandchildren. Jim's family already celebrated his life at a Funeral Mass in Idaho and a memorial service will take place on Sunday, October 11, 2015 at 2 p.m. at the Newton Highlands Congregational Church, 54 Lincoln St, Newton, Massachusetts.