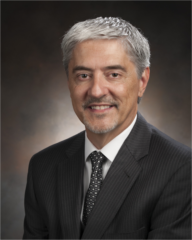 "Now about the dead rising—have you not read in the Book of Moses, in the account of the burning bush, how God said to him, 'I am the God of Abraham, the God of Isaac, and the God of Jacob'? He is not the God of the dead, but of the living." – Jesus (Mark 12:26-27, NIV)
Here are the dry facts:
It is with great sadness that the American Meteorological Society announces the passing of AMS President Matthew J. Parker, CCM, who died in his sleep Wednesday night.
 Parker, 53, worked at Savannah River National Laboratory in Aiken, South Carolina since 1989, most recently as Senior Fellow Meteorologist in the Atmospheric Technologies Group. He was elected as AMS President-elect in November 2015, and assumed the role of AMS President during the Society's Annual Meeting in Seattle this past January. Parker was slated to oversee the Annual Meeting in January 2018 in Austin.
But nothing about Matt was dry. Keith Seitter, AMS Executive Director, captured some of this spark:
 "This is an enormous loss not just for the AMS family but for the entire scientific community," said Keith Seitter, AMS Executive Director. "Matt was deeply admired for his commitment to the AMS community. He was a leader and a friend, and we will all miss him tremendously."
Commitment to the AMS community? Spot on, and yet at the same time the phrase only begins to capture the depth of Matt's passion. His predecessors as AMS president have all served with distinction, and yet each, upon shouldering that mantle for a year, showed signs of feeling the weight of responsibility. By contrast, Matt had charged in, oblivious to any cost of time and effort, any additional workload. He saw only opportunity, and he couldn't wait to start. Encourage early-career professionals at the annual AMS Summer Colloquium? Matt wanted to do that a year early (and in retrospect, how fortunate that he did). Set the theme for his AMS Annual Meeting at Austin in 2018? Matt didn't vacillate; he knew he wanted the theme to be communication, and set forth his vision promptly. We've known for over a year where he was headed. A tumultuous political season in Washington? Matt had already formulated his roadmap for engagement.
We shouldn't have been surprised. Matt had brought the same larger-than-life vitality to his prior AMS volunteer work, such as his leadership of the Enterprise Commission. Matt brought a unique intersectional perspective to this task, working as he did for a private-sector contractor to a government agency. Early on he embraced the potential for the Weather Enterprise embodied in bringing the public-, private-, and academic-sectors of our community into close collaboration. He worked tirelessly for years to help bring that about. We're better positioned than ever to serve the American public thanks to his efforts.
It is given to each of us the privilege of seeing at most a sliver of another's life, no matter how close our relationship. As members of the AMS community, most of us lack direct experience of Matt the family man, Matt the church leader, Matt the citizen. But we can extrapolate from what we see… and to do that is to realize we are not the only ones to feel his loss. Our sympathies go out to Matt's other communities.
But we can also offer this special insight – and comfort – from meteorology. We know that the weather and the world's seven billion people are akin, in this respect – they are chaotic systems. The meteorologist Edward Lorenz discovered that the smallest influences, the least details in the atmosphere don't dissipate. Their impact expands, changing the atmosphere's destiny to an ever-increasing extent with the passage of time. So it is with our lives. Our influence doesn't wane on the day of our physical death. It too continues to grow. Matt's influence on each of us has changed our subsequent engagement with each other, as well as with others outside our immediate meteorological circle. Those small effects in turn have touched even larger circles of friends and acquaintances. Matt's influence has thus been expanding for years and will continue to do so.
The ministry of Jesus (quoted here) and the coming Easter season reinforce this same idea. Though initially confined to a few square miles of middle East real estate, and lasting only three years, his influence now extends worldwide, and even continues to grow, 2000 years later.
Matt, we all miss you for now, but we're soldiering on, and we're told our eternal destiny is to be together again.